National Science Week 2023 Spotlight - Takunda Kwerengwe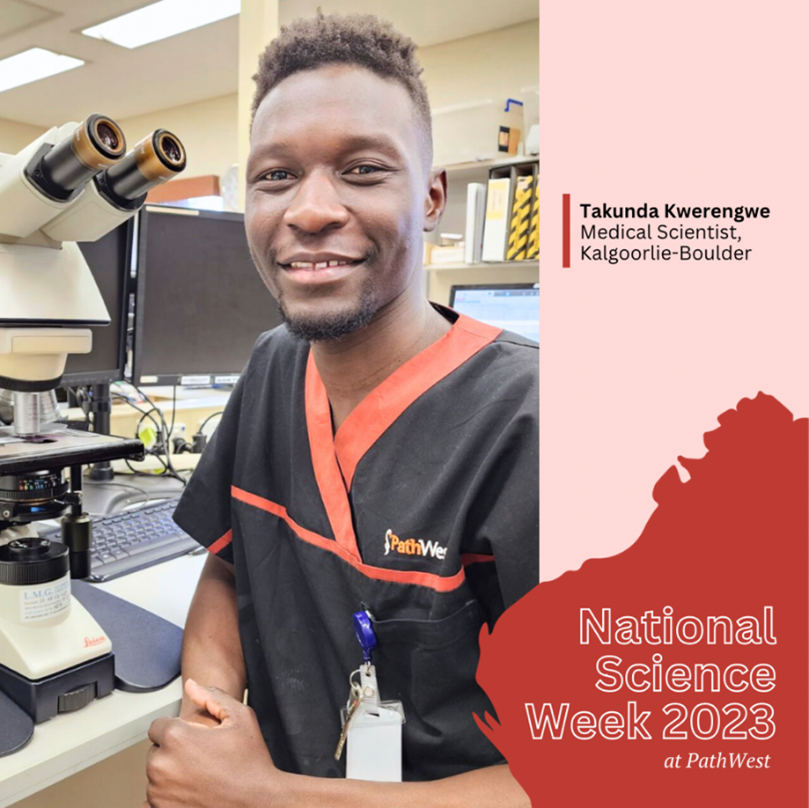 This year's National Science Week, PathWest shines a spotlight on our regional medical scientists.
Meet Takunda Kwerengwe, Medical Scientist at PathWest Kalgoorlie-Boulder.
Throughout high school, Takunda found a passion for chemistry and human biology – subjects he excelled in. Going to university to carry out a Bachelor of Science degree in the health and medical field was inevitable for him. At the time he didn't know specifically what he wanted to do. Takunda pursued an undergraduate's course in Laboratory Medicine and Pathology at The University of Western Australia.
Takunda shared 'As part of the course, we visited the pathology museum in UWA Nedlands, where each specimen was displayed with an anonymous clinical history and a pathological disease. It was intriguing to see a vast number of specimens for each condition, which covered various ways diseases can present in individuals. The experience of analysing specimens and all the different ways they have been affected by diseases and pathogens cemented my interest in pathology.'
'It was also the realisation that behind each specimen lies a unique story and a clinical history. All the factors must be considered in making a final diagnosis. This really caught my attention. I was so set on studying pathology, that I started to look up options for post-grad pathology courses while still in my second year of my undergraduate degree. I then went onto studying a Master's in Clinical Pathology, specialising in Biochemistry, Microbiology and Haematology preparing me well for a regional medical scientist career – the three main disciplines in regional Pathwest. A 4-week placement at Pathwest Karratha Health Campus as a student in 2020 made me fall in love with regional work. Fast forward 4 months later, I was a successful applicant in the regional scientist pool. I have recently clocked two years as a regional medical scientist, and I am still loving every bit of it and learning a lot along the way' Takunda said.
Importance of pathology services in Kalgoorlie-Boulder
PathWest Kalgoorlie-Boulder provides comprehensive pathology services to the largest of seven regions in the WA Country Health Service, within the Goldfields. Operating at the main regional centre Kalgoorlie Health Campus, Pathwest Kalgoorlie-Boulder is also responsible for providing services to the surrounding communities in the Goldfields. Being at the heart of such a large region, we take pride in ensuring these remote communities have access to reliable pathology services that will ultimately help in diagnosis and treatment of the patients.
For me, the patient always comes first. Behind each specimen is a human being, whom along with their friends and families rely on you to provide them with the best healthcare service for a favourable outcome. A crucial aspect of our services to remote communities is providing the Royal Flying Doctor Service with emergency blood units during critical emergencies in the surrounding communities and mine sites. The patient will be transferred back to Kalgoorlie where we further assist the medical team with quick and reliable patient results.
Takunda's message to younger generations
I feel incredibly strange giving advice to someone who already has passion for something. I believe passion is what drives you to excel in something. However, I would say science is very fascinating and dynamic, so make the most of your career and studies, become curious and proactive.
Allow yourself to make friends along the way, network with others because ultimately that's how opportunities present themselves. Don't be afraid to get out of your comfort zone. For me, leaving Perth and heading to Karratha as a student for a placement is what ultimately triggered my interest in regional work, and today here I am, a Medical Scientist at Kalgoorlie-Boulder.