National Science Week 2023 Spotlight - Ben Payne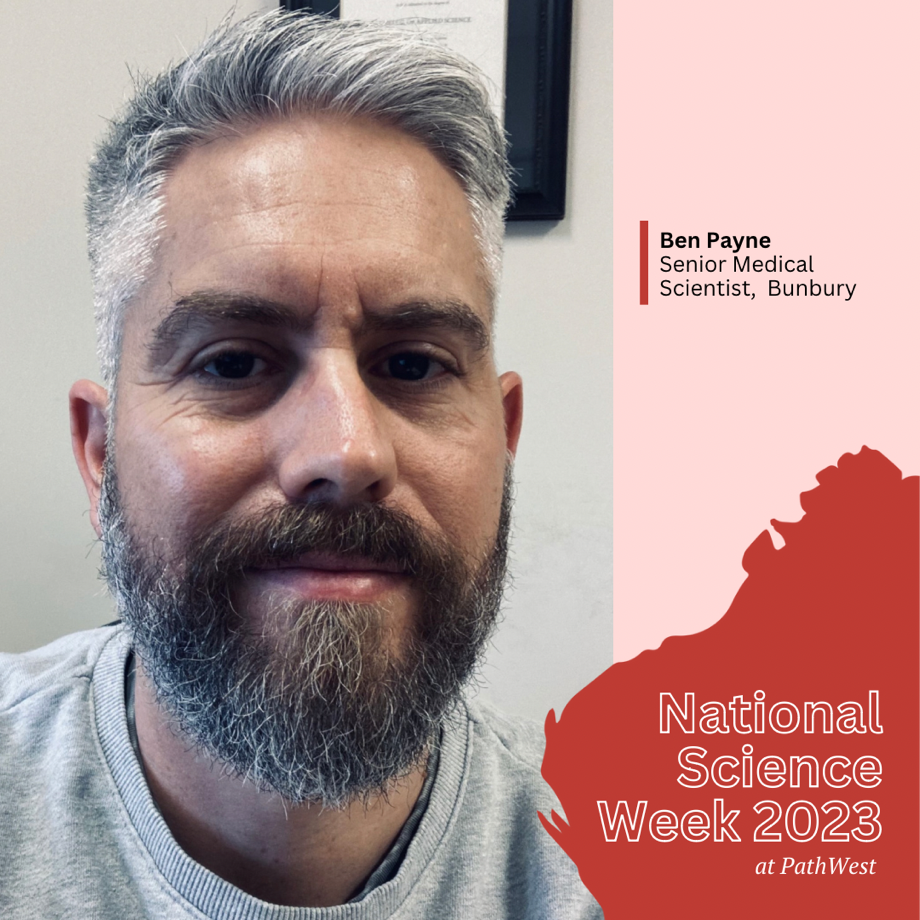 This year's National Science Week, PathWest shines a spotlight on our regional medical scientists.
Meet Ben Payne, Senior Medical Scientist at PathWest Bunbury.
Ben's path to becoming a Medical Scientist was not as straightforward. Though Ben has always had a keen interest in science, he shared 'I wasn't exactly a model student during my high school years and left school early to undertake an apprenticeship in Baking.'
After 10 years in that industry, Ben decided to pursue a higher education and applied to study Food Science and Technology, 'which seemed a logical progression at the time' Ben added.
'The first year of Food Science included units in microbiology, human biology and chemistry. Studying these subjects re-awakened the nerd in me. I was truly blown away by the complexity of the human body – how all those intricate physical, molecular and biochemical systems interact and evolve and how our environment or other organisms can disrupt it all. I decided to change paths and pursued a Medical Science degree, which would immerse me further in these subjects. More than 13 years later, here I am, a Senior Medical Scientist – still at it, and still fascinated' Ben said.
Importance of pathology services in Bunbury
PathWest Bunbury operates at the South West Health Campus, providing services to one of the busiest healthcare facilities outside of the metro area. As the population of the South West continues to grow, so has the demand for higher quality, and specialised health services.
PathWest Bunbury has evolved in-step with these needs, expanding the range of tests we offer and providing 24/7 results to our customers. Beyond our hospital services, one of the most important roles we play in our community is to provide specialty blood products to leukaemia and cancer patients from around the region.
Traditionally these patients had to travel or re-locate to Perth in order to receive transfusions, but now we can support them locally. This has a huge impact on the quality of life and outcomes of these patients, reducing stress and allowing them to remain close to friends and family during some of the most difficult periods of their lives.
Ben's message to younger generations
Academic success isn't everything, so don't burn yourself out in pursuit of it! The truth is, building a career is more dependent on experience, a great attitude and forming networks than it is on good grades.
In fact, becoming a scientist doesn't necessarily have to be your goal. There are so many opportunities in life to indulge your curiosity and problem-solving skills. Just get out there, apply them and contribute to making the world a better place.