National Science Week 2023 Spotlight - Monica Neil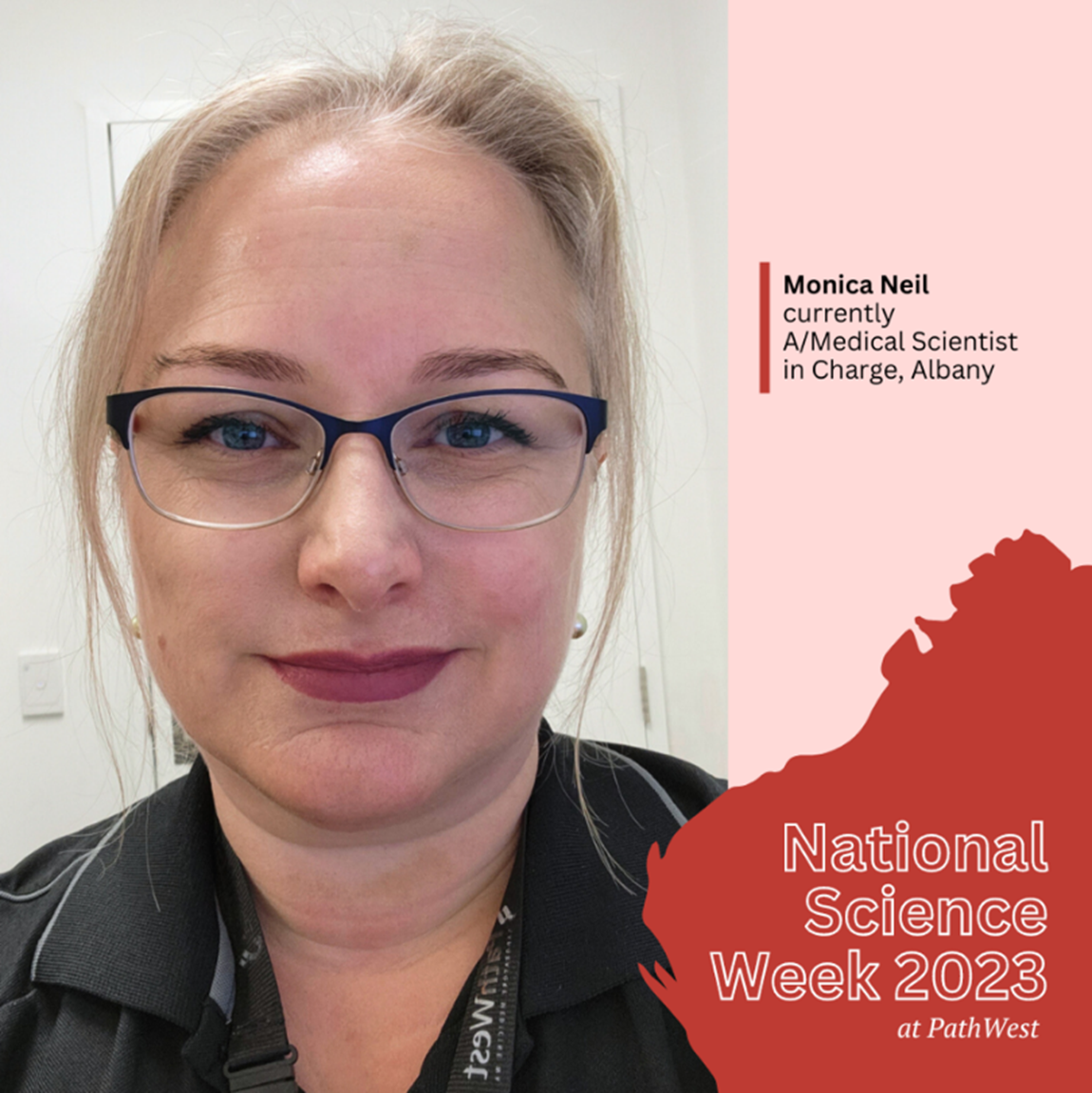 This year's National Science Week, PathWest shines a spotlight on our regional medical scientists.
Meet Monica Neil, currently Acting Medical Scientist in Charge at PathWest Albany.
From a young age, Monica has always been fascinated with science. It wasn't until year 11 that she decided to pursue a career in it. After high school, she chose a Biology degree, majoring in Molecular Biology.
After completing the degree, Monica found the career opportunities were sparse. She moved to the Goldfields in the early 2000s and started a job at PathCentre (what is now PathWest) as a technical assistant.
'I loved the job. I knew that medical science was the career I wanted to pursue. I started to investigate avenues of study that I could complete remotely. I started at Curtin University around the same time I started a family. I was able to do two units remotely, but once those were completed, I had to attend my studies on campus. Moving wasn't an option for me, and commuting would prove very difficult with a baby, so I had to defer my studies' Monica shared.
'I think it was 2007 or 2008 that the late Frances Brogden came to Kalgoorlie for a visit and told me that Charles Sturt University in Wagga Wagga offered an external Medical Laboratory Science degree that was accredited by Australian Institute of Medical and Clinical Scientists (AIMS). I enrolled in the course but decided not to continue working so I was able to study while raising my small children. Studying by correspondence was challenging but the internet is a wonderful resource. I thoroughly enjoyed my trips to Wagga Wagga once a semester for the practical part of the degree and I have made some lifelong friends' Monica said.
By the time Monica finished the degree, her children were at school and she returned to PathWest Kalgoorlie laboratory as a Medical Scientist. After the birth of Monica's third child, they decided to move to Albany. She returned from maternity leave to work at PathWest Albany covering another scientist's maternity leave. Six and a half years later, Monica and her family are very happy in Albany. She is now a permanent Senior Scientist, currently Acting Medical Scientist in Charge, and enjoying the challenges that are coming her way.
Importance of pathology services in Albany
PathWest Albany services a huge part of the Great Southern Region, including Denmark and Mount Barker. We have inpatient and outpatient services including domiciliary collections at all these locations. We endeavour to make the patients' experience as convenient and comfortable as many of these patients already have significant levels of stress in their lives. Not having to travel long distances and being able to get a large portion of their results the same day as the blood collection is very important to support many parts of our community, including patients going through chemotherapy or radiotherapy and patients undergoing IVF treatment in the Great Southern.
Our equipment and tests are evolving as technology evolves. The emergence of COVID-19 prompted the roll out of RAPID PCR testing technology in several of the regional labs including the Great Southern. This greatly reduced turnaround times for patient results, which have a huge positive impact on patient care.
Monica's message to younger generations
Follow your dreams, there is always a path. There may not be a direct route but there are always avenues available.
My 7-year-old son said, 'My dream is to be a Scientist just like Mum.' I fully intend to nurture this and to guide him wherever I can. The children are our future as they say.