National Science Week 2023 Spotlight - Susannah Molloy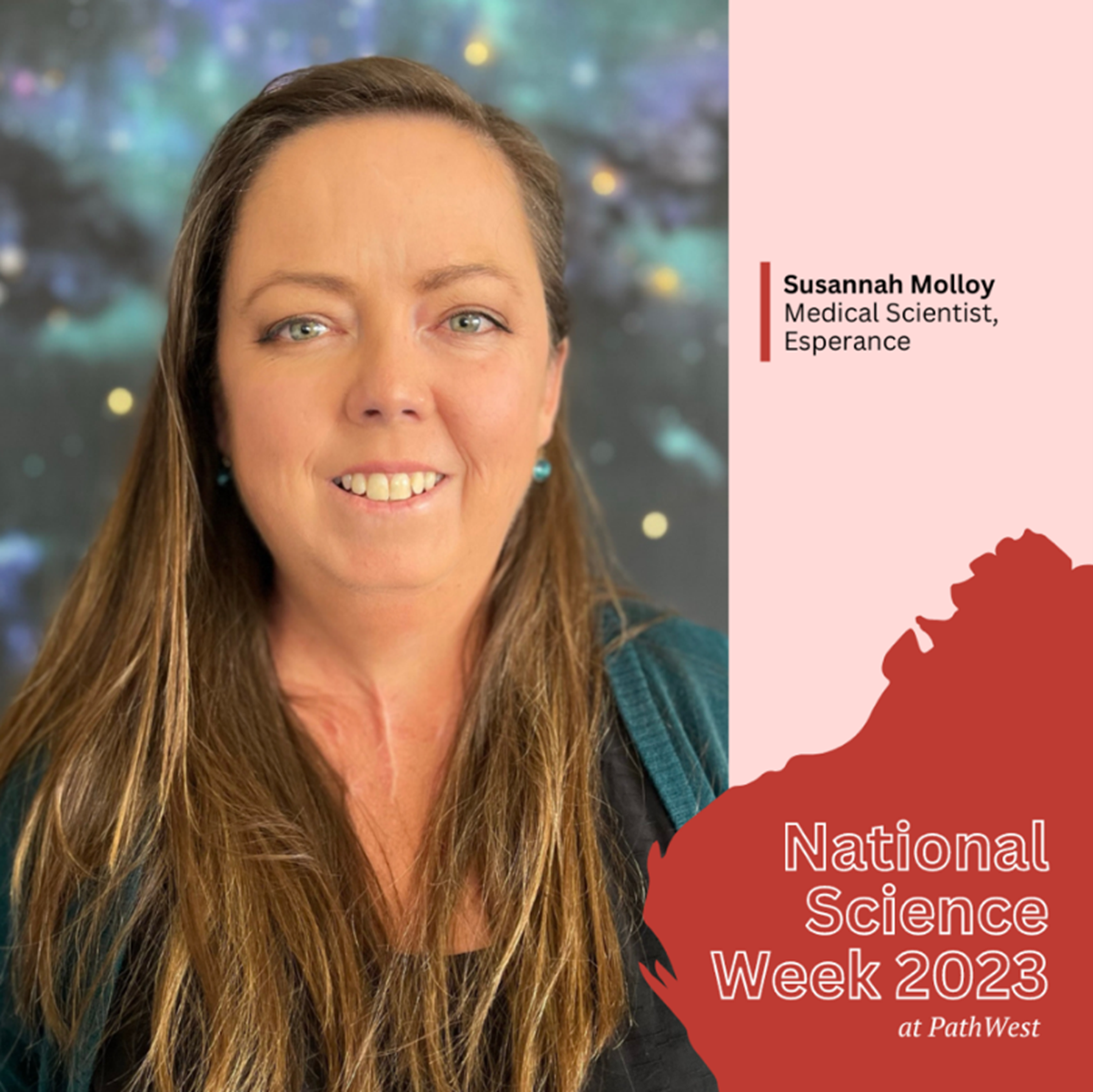 This year's National Science Week, PathWest shines a spotlight on our regional medical scientists.
Meet Susannah Molloy, Medical Scientist at PathWest Esperance.
Susannah's interest in health sciences stemmed from childhood visits to Princess Margaret Hospital (now, Perth Children's Hospital), where she was exposed to various medical professions and developed a keen interest in the field.
Her fascination with understanding the mechanisms and rationales behind medical procedures led her to closely observe them, even though she playfully referred to phlebotomists as 'vampires' as a child.
Growing up in a farm, Susannah pursued her high school education by correspondence. Transitioning to university life was a significant shift. While she enjoyed aspects of being in the city but realised she didn't want to be restricted to metropolitan work. Due to that, Susannah changed her degree from Molecular Genetics to Medical Science.
Over the last 20 years, Susannah has worked in regional labs, mainly in Esperance. Susannah shared 'I even worked with the scientist who used to take my blood as a child for many years.'
Importance of pathology services in Esperance
Due to Esperance's remote location, a trip to Perth requires a 3-day round-trip drive. Local services not only save time and money but also ensure families can remain together while receiving quality treatment in the comfort of their community.
Having a pathology service locally significantly contributes to the wellbeing of our community. This spans from monitoring cholesterol levels to assessing the efficacy of treatment for newborns with jaundice, as well as offering vital care in critical situations like car accidents and shark bites. Our 24/7 pathology service supports the whole hospital and Emergency Department in Esperance.
While at times it may be stressful, but the experience is rewarding. The hospital staff, including the lab team work together to care for, and in some cases save patients' lives.
Susannah's message to younger generations
Don't think that a career in science will restrict you to doing research in major cities. Regional lab work is very diverse and rewarding. You can be identifying bacteria and appropriate antibiotics, to matching blood for safe transfusion all in the one day.