International Women's Day Spotlight - Angie Paskevicius, PathWest Board Chair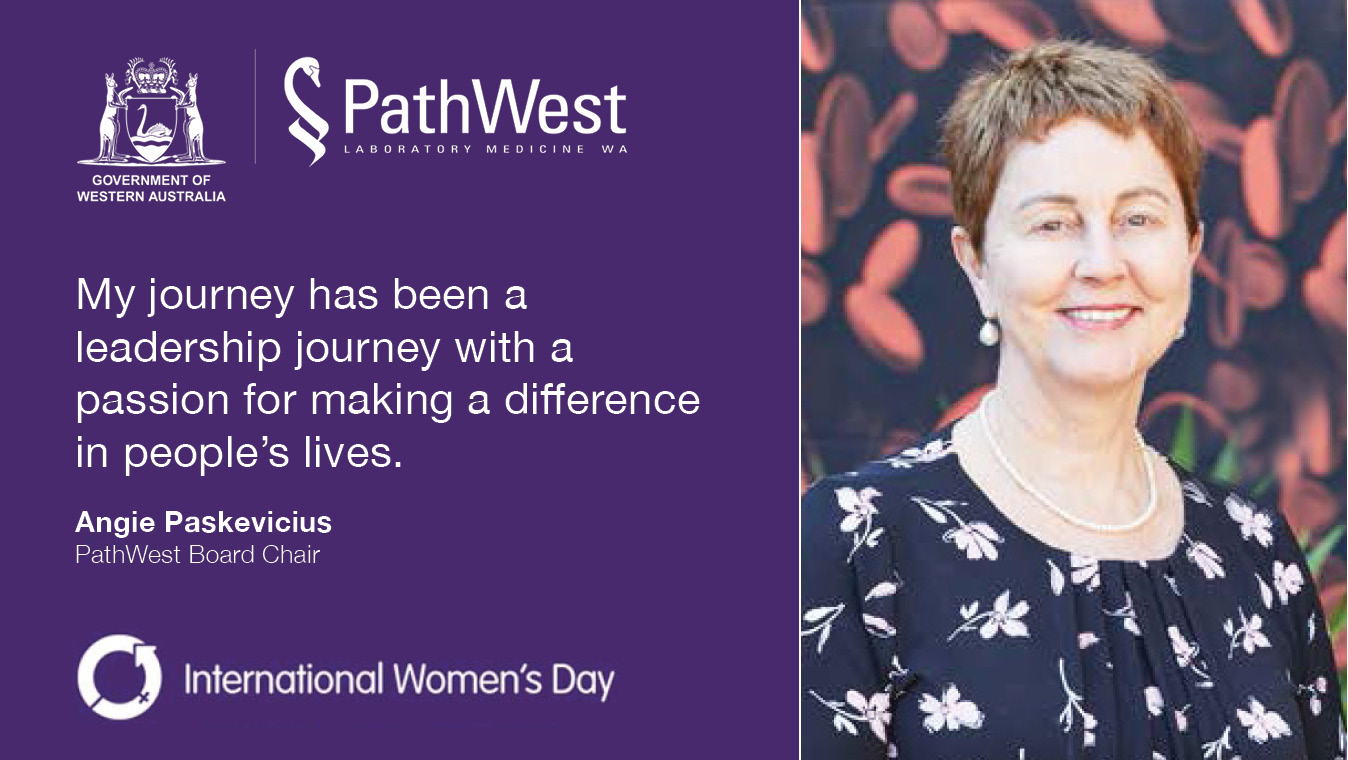 Today's International Women's Day Spotlight is our PathWest Board Chair, Angie Paskevicius.
In a world that is constantly changing, how have the roles and contributions of women in science or your profession or discipline evolved over the past few years?
In the leadership space, changes have been slow to happen over the past few years with still only a small number of women moving into senior management and Board roles. According to research published by Bentleys in February 2022, women hold 17.6% of Chair positions and 31.2% of directorships and represent 19.4% of CEOs and 34.5% of key management roles. 22.3% of boards and governing bodies have no female directors. At PathWest, women currently represent 55.6% of female directors on our Board and we have a female chair.
Has there been a shift in career paths women choose today compared to the past few decades?
I think that women are much more adventurous today in their choice of career paths. There are many more opportunities and more flexible, family friendly options available for women today. However, in the leadership space, while more women are taking on leadership roles, in Australia and around the world, women continue to be underrepresented in senior management and Board roles. Times are changing, but we still have a long way to go.
What networks have you found helpful for building a supportive community of women in your profession or discipline?
In my career as a long-term CEO and Non-Executive Director, it can often be lonely at times. Building a strong network of like-minded women around me has been essential and invaluable. Over the years I have also sought out mentors and coaches to guide me on my journey.
What advice would you give someone who is just starting out in your profession or discipline?
Spend the time to invest in 'you'. Understand who you are, what's important to you and what drives you to be who you are, then continue to learn and grow to become more of who you are. 'Be yourself, everyone else is already taken.' Oscar Wilde
What message would you like to share with women around the world on International Women's Day?
My journey has been a leadership journey with a passion for making a difference in people's lives. I'm a strong believer in the quote from Rick Warren:
'People don't care how much you know, until they know how much you care.'